Yongkang Yingyue Shot Blasting Material Co.,Ltd.
TEL: 0086-579-87021110 87021112
FAX: 0086-579-87227699
MT: 0086-13033660000
ADD:Yongkang, Zhejiang, China.
Name: carbon steel cut wire shot Model: XY-8008
Carbon steel cut wire shot is made by cutting carbon steel wire, size of length equal to diameter,
uniform hardness and density.

This product is widely used for surface improvement, deburring, descaling, shot blasing and peening
in non-ferrous metals, and other steel parts. Compare with steel shot, conditioned cut wire shot have
more broader application, longer durability, no pore and crack, higher density, stronger jet.

Applied in aviation industry, aotomotive, foundry, semiconductor manufacturing and consumer goods manufacture. Processed by conditioning, the shape turn to round grain, mainly used in automobile
industry such as gears, bearing, spring and so on.
Chemical composition

Product


Material

Chemical Composition(%)


Density


Hardness


Test

C

Si

Mn

S

P


others(Fe)


carbon steel cut wire


brand new steel wire

0.06-0.12%

0.3%max

0.25-0.5%

0.05%max

0.45%max

rest

7.84g/cm³

30HRC

Pass


carbon steel cut wire


spring wire

0.85%max

0.35%max

0.7%max

0.03%max

0.03%max

rest

45-55HRC
55-65HRC

Pass
Size Availalbe: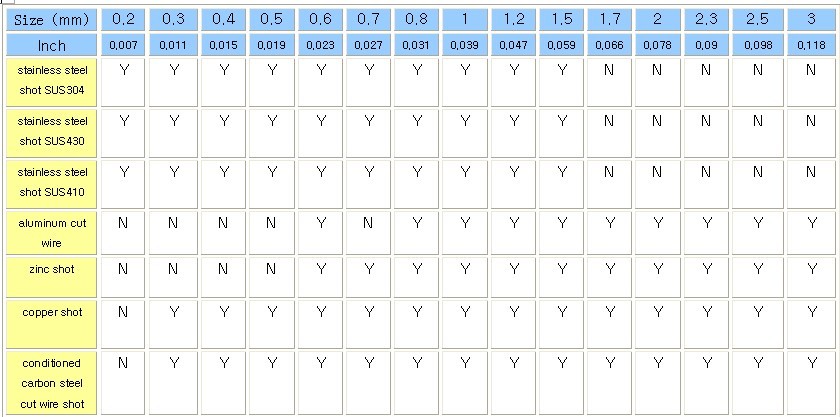 BACK